The global leather garment, footwear, and accessories industry is notoriously associated with human rights and labour rights violations as well as environmental damage in the different production stages. Workers often toil for long hours and low wages in deplorable conditions. Union-busting, gender and caste  discrimination, and child labour occur regularly. Workers struggle with health issues because they work with toxic substances and unsafe heavy machinery, often without adequate protective equipment. Environmental damage includes groundwater pollution through the discharge of untreated wastewater.
There is an urgent need for greater supply chain transparency in the sector. Workers, trade unions, and workers' support organisations need to know which corporate actors have a responsibility to address labour rights violations, for example.
This paper analyses the current state of supply chain transparency in the leatherbased apparel, footwear, and accessories industry. For this paper report SOMO has investigated the level of supply chain transparency of 100 international buyers in two specific leather-based segments of the global garment industry: luxury goods and footwear. These segments typically produce a wide variety of items. Additionally, we included a number of online retailers ("e-tailers") in the selection, in view of their increasing market share. Among the 100 selected companies are some of the largest players in these segments in terms of size, turnover, and market share.
SOMO used information from various sources to undertake this analysis. These included Fashion Revolution's 2021 Transparency Index, which reports on 250 major players in the garment industry, Veraart Research Group's Retail-Index, and Refinitiv Eikon. We also looked at the supply chain transparency requirements that responsible business initiatives, multistakeholder initiatives (MSIs), and sustainability certification schemes have in place for their member companies. We checked the scope of such requirements and whether they are merely "soft" suggestions or genuinely "hard" standards.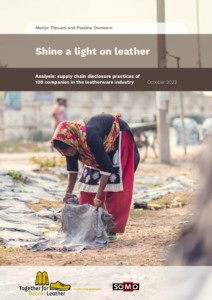 Download 'Shine a light on leather Analysis: supply chain disclosure practices of 100 companies in the leatherware industry'
See our online table with the data of the analysis.
https://togetherfordecentleather.org/wp-content/uploads/2022/10/Tranparancy-analysis-photo-cover.jpg
1000
1500
Rene
https://togetherfordecentleather.org/wp-content/uploads/2020/10/Decent-Leather_weblogo-1.png
Rene
2022-11-03 06:45:57
2022-11-03 14:06:05
Shine a light on leather – Analysis of 100 companies