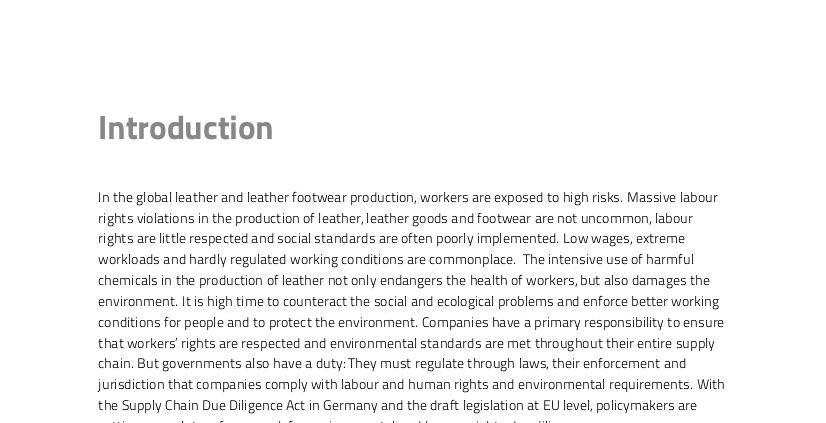 INKOTA/Südwind Austria
Label Check: Leather and Leather-Shoes
Labour rights and social criteria are neglected by the most common leather and shoe labels. The shoe and leather industry does not sufficiently implement the requirements of the German Supply Chain Act, but hides behind voluntary standards. This is the result of a joint research by INKOTA and Südwind Austria.
"Consumers get no information about working conditions and social standards when buying leather goods and shoes; a blatant lack of consumer information. Companies advertise with standards that are not mandatory", explains Berndt Hinzmann, senior policy advisor at INKOTA.
The six quality labels examined include the "Blue Angel eco-label for shoes", "Oeko-Tex Leather Standard", "IVN certified natural leather", the "Austrian eco-label" and the two business-to-business certification systems "Leather Working Group (LWG)" and "Higg Brand and Retail Module (HiggBRM)". Only two, the Blue Angel and the Austrian Eco-label, are based on legal regulations. The other schemes base their selection of technical, environmental or social criteria primarily on the interests of the companies involved. The majority of the certification systems described focus on the collection of environmental and material-related indicators.
None of the quality labels include information on living wages or the risk-based approach to due diligence. The certifications also have major shortcomings when it comes to social criteria: in the case of the Leather Working Group, the Oeko-Tex Leather Standard and HiggBRM, no social criteria are necessary for the award of the seal. With the Leather Working Group, it is even possible to obtain the "Gold Medal" label without a social audit. The HiggBRM does not make public any information at all that gives insight into the risk analysis and the measures companies take to minimise or avoid risks along the supply chain.
"There is an urgent need for action to address the structural risks leather and footwear workers are facing. We need a strong EU supply chain law and a review of the implementation of the German supply chain law. Accepting home-made, non-transparent industry standards is not the solution", states Berndt Hinzmann.
The Decent Leather Label Check examines a selection of quality labels that companies referred to in the company survey "Human Rights Due Diligence in Practice". The companies stated that they fulfill the requirements of the German Supply Chain Due Diligence Act via so-called business-to-business standards.
The Organisation for Economic Co-operation and Development (OECD) has identified leather production as a special risk sector. Massive labour rights violations are not uncommon in the production of leather goods and shoes. Low wages, extremely long working days and hardly regulated working conditions are the rule. In addition, there is intensive use of hazardous chemicals, inadequate protective equipment and far-reaching environmental risks.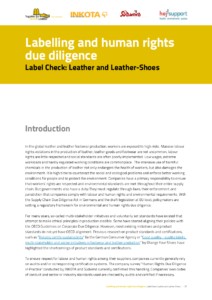 https://togetherfordecentleather.org/wp-content/uploads/2023/03/Label-Check_Decent_Leather_Engl_INKOTA.jpg
1169
826
Jenny Pannenbecker
https://togetherfordecentleather.org/wp-content/uploads/2020/10/Decent-Leather_weblogo-1.png
Jenny Pannenbecker
2023-03-29 13:47:08
2023-03-31 15:57:18
Label Check: Leather and Leather-Shoes