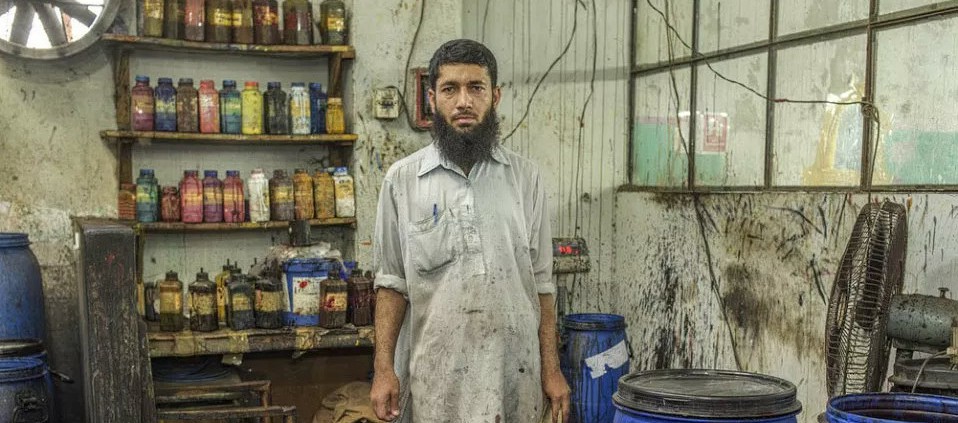 Battle over minimum wages in Pakistan
Over the past eight months, the government of Sindh province in Pakistan, employers, and labour rights organisations have been entangled in a fierce battle over minimum wage levels. Sindh province is an important hub for the production of garments for international brands, including leather-based apparel. Garment and leather workers risk coming out on the losing end of this highly politicised battle.
On 9 July 2021, the Sindh provincial government announced a new monthly legal minimum wage for unskilled workers of 25,000 Pakistani Rupees (approx. € 127 as per the exchange rate of 1 March 2021). This constituted a wage increase of no less than 43 per cent compared to the previous legal minimum wage of Rs 17,500, set in 2018. Workers' organisations had campaigned for an increase of up to Rs 30,0000 per month, to compensate for prevailing poverty wages, high inflation, and the financial distress caused by the Covid19 crisis which caused many workers to lose out on months of wages.  Still, the increase announced in July 2021 was welcomed.
Employers putting up a fight
Employers in the garment industry, however, said they cannot meet the costs involved with the new minimum wage. They filed a case against this decision with the Sindh High Court claiming that proper procedures had not been followed. Employers argued that the Sindh Wage Board had recommended Rs 19,000 as minimum monthly wage and that Rs 25,000 is too much. A majority of factory owners are effectively refusing to pay the increased wage. They even threaten to relocate production from Sindh to Punjab province, where the minimum wage would be lower. Workers interviewed by NOW Communities, a Pakistani worker rights organisation that is part of Together for Decent Leather, confirm this picture.
Ongoing legal battle
The Sindh High Court upheld the provincial government's July 2021 minimum wage decision, declaring that the Rs 25,000 wage was to be implemented retroactively from 1 July 2021. The High Court said that the provincial government was indeed competent to fix, announce and declare the minimum wage. At the same time, the High Court advised the Sindh government to improve current minimum wage procedures.
Employers did not give in. Under the flag of the Federation of Pakistan Chambers of Commerce, an appeal was lodged at the Supreme Court, which in an interim verdict overturned the decision by the High Court. The Supreme Court maintained that the Sindh government had not followed procedures correctly.
In January 2022, the Supreme Court issued its final verdict, directing the Sindh government and the Wage Board to reach an agreement on the minimum wage in the province by consensus within two months. In the meantime, as per the Supreme Court rule, employers in Sindh are obliged to pay Rs19,000 as monthly minimum wage for unskilled workers, based on an 8-hour working day, with at least one week of holidays per year, with effect from July 2021. For the Sindh government to implement this part of the Supreme Court's decision, however, a written verdict needs to be issued, which the Supreme Court so far has failed to do.
What garment brands sourcing from Pakistan should do
At the international level, Clean Clothes Campaign (CCC) is calling on garment brands that source from  Sindh – including H&M, C&A, ALDI  Fruit of the Loom, Bestseller, Levi's, Gap, and Mango – to facilitate the payment of a Rs 25,000 minimum wage by means of responsible purchasing practises and paying a fair price. All workers, regardless of their contract status, should be able to enjoy this wage level. CCC argues this pricing should extend to all orders being produced since 9 July 2021, the date when the minimum wage increase was first announced by the Sindh Provincial government. CCC furthermore asks brands to publicly commit to this good practice. As labour costs only constitute 3-5 per cent of the total production costs, brands should be able to cover such wage increase, while brands' lack of action will undermine this vital step and increase workers' vulnerability to poverty and debt.
https://togetherfordecentleather.org/wp-content/uploads/2022/03/Pakistan-leather-factory-asim-rafiqui-cropped.jpg
529
958
Rene
https://togetherfordecentleather.org/wp-content/uploads/2020/10/Decent-Leather_weblogo-1.png
Rene
2022-03-03 13:01:58
2022-04-04 11:59:26
Battle over minimum wages in Pakistan