Bangladesh, Pakistan, and India play a major role globally in the export of leather for further processing as well as for products, such as shoes, clothing, bags, suitcases, and belts. It is an industry that contributes significantly to these countries' economies. There are approx. 200 mainly small and medium-sized tanneries in Bangladesh. Around 80% is produced for direct export and 20% for domestic processing. The main site is an industrial park in Savar, near Dhaka. There are also a smaller number of workshops and factories in the former tannery hub of Hazaribagh in Dhaka's old town. Leather products, mainly footwear and accessories, are manufactured in the country's many other production zones. Leather garments are produced in relatively low numbers. It is estimated that the entire sector employs more than 850,000 people.
Four recent regional studies on the leather industry and working conditions in Bangladesh, Pakistan, and India conducted in 2022 by the Together for Decent Leather consortium provide comprehensive information on the sector. The studies examine tanneries in Savar near Dhaka, tanneries and leather-processing facilities in Karachi in the Pakistani province of Sindh, and in the cities of Vellore and Ambur in the Indian state of Tamil Nadu.
All of the selected regions are key leather production hubs. The analysis is based on surveys of a total of 345 leather workers, interviews with local experts from civil society, business, and government, analysis of publicly available commercial data (e.g. concerning leather shoes produced in Bangladesh), as well as a survey of brand[1]name companies and leather importers. This factsheet summarizes the studies' most important findings. Further details can be found in the respective publications.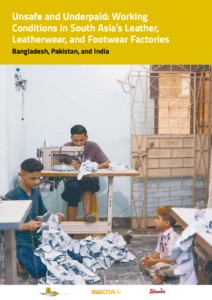 Download the factheet here.
https://togetherfordecentleather.org/wp-content/uploads/2023/02/1536-1024.jpg
1000
1500
Jenny Pannenbecker
https://togetherfordecentleather.org/wp-content/uploads/2020/10/Decent-Leather_weblogo-1.png
Jenny Pannenbecker
2023-02-14 17:19:38
2023-02-14 17:19:38
Unsafe and Underpaid: Working conditions in South Asia's leather, leatherwear, and footwear factories